hey gorgeous!
I'm Alina, and I am a wedding photographer born and raised in Russia. The majority of my life there I spent in freezing Siberia (Brr!) and in 2015 I moved to Minnesota (Brr again!) together with my pup Boolah. She is the cutest little Pomeranian you've ever seen, and I bring her pretty much everywhere I go like any other crazy dog mom would do!
Above all things in life, I cherish friendship and human connection most. I have been blessed with having absolutely amazing people in my life not only in Russia and the United States but also in Europe, Australia, and even Indonesia! Needless to say, I love traveling (especially for photo shoots and weddings), visiting old friends, and making new ones!
Apart from taking photos, cuddling my dog and hanging out with friends, I also love eating pizza with pickles on it (you should try it too!), singing in my car to the most cheesy songs, and dancing like nobody's watching! I love sleeping in and pretty much the only thing that can get me out of bed early is going somewhere cool to see a sunrise. What could be better to start your day?!
You are gonna want to read through all this. Trust me.
I bring lots of energy and positivity into my shoots and will totally make you laugh with my sometimes inappropriate jokes. Like a crazy person (or as I like to say "creative"), I run around chasing light and get all dirty while crawling on my knees or falling on my butt to get that best angle and shot.
I absolutely love shooting small weddings and elopements. Just like you, I am going through an experience on your wedding day. I have found that my most profound experiences have happened at smaller weddings where I had an opportunity to REALLY get to know the people that I photograph that day.
I strive for unposed photos with a cinematic feel and a journalistic approach. You won't see the traditional "say cheese" shots in my work. If you want to see the traditional family photos we can still make that happen, but the in-between moments is what it's all about and what I love. We'll chat about anything and everything, we'll listen to music, we'll dance if you want, and we'll get quiet when you trust me enough to see your most intimate selves.
I'll create a safe environment for you to show your love for each other and I'll take bomb photos of it.
The most important thing you need to know about working with me is that whatever happens, we are in it together.
You want to climb on the edge of that one questionable cliff or mountain terrifying everyone around you? Well, watch me climb the one next to it to take the best shot.
Wanna have a shoot in a lake? I'll be waist deep in water with you carrying my expensive ass camera around no problem.
Want to have your engagement shoot on a negative degree day? I'll bring some coffee and Baileys along, and we'll rock it, baby.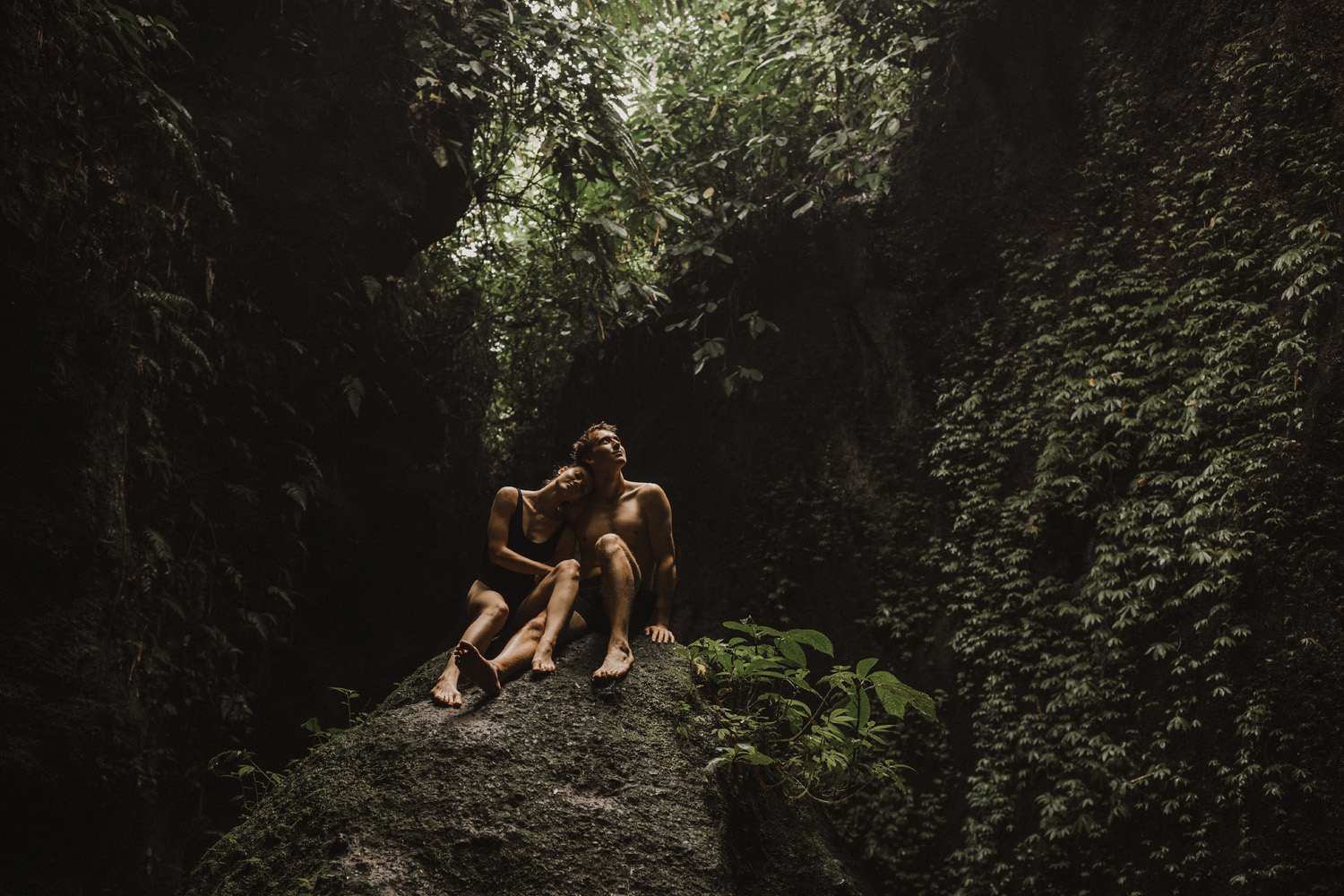 Or maybe you want to get all sweaty hiking somewhere in triple-digit heat? I'll make you look just as hot as the weather itself and make sure you stay hydrated while at it.
Mother nature decides to pour on your wedding day, and you get soaked while walking down the aisle? I'll be right there cheering you on, just as soaked as you because dry wedding attire is overrated.
Hunny, whatever you and your love are up to - I'm a 100% in it with you.
I want nothing less than the REAL you, and you bet you can expect the same in return. I'll laugh with you, I'll cry with you, I'll be there for you.
So with all that said, my shooting philosophy comes down to one simple thing: EMBRACE whatever the day brings. Don't worry about silly things like rain on your outdoor ceremony, your dress getting dirty or your newlywed husband getting tipsy before your sunset portrait time. All these little things don't matter because you just got married to the love of your life and your best friend. This is YOUR day. It is PERFECT just the way it is, and I'm here to capture it!